M&R Feeds is your key stop for products and services for the farm and country home. We assist farmers with recommendations on livestock nutrition, handling and management as well as selecting crop inputs, marketing options and financing.


Thank you for helping us win $15,000 for our community with the Thank A Retailer campaign. See our video - Click here!
Latest News & Information

UOV Chamber Award
M&R Feeds would like to thank the Upper Ottawa Valley Chamber of Commerce for our nomination of Excellence in Agribusiness, Farming or Rural Achievement. The Business Achievement Awards were held on May 31st. M&R congratulates Hugli's Blueberry Ranch as the award winner.
Flood Relief

M&R Feeds appreciates the many hours of work from employees of affected municipalities, members of the Canadian Armed Forces at Garrison Petawawa and volunteers. M&R has made a financial contribution to the Westmeath Recreation Association and to Bouffe Pontiac.
Adopt-a-Road

On Saturday, May 18, the Renfrew County Junior Farmers and the Micksburg Minor Ball players, coaches and parents came together for a clean-up of 7km of roadside and ditches of Micksburg Road. M&R Feeds provided financial assistance to the two groups and worked together with the Township of Laurentian Valley in the Adopt-a-Road program. Pictured below is the team ready to bat clean-up.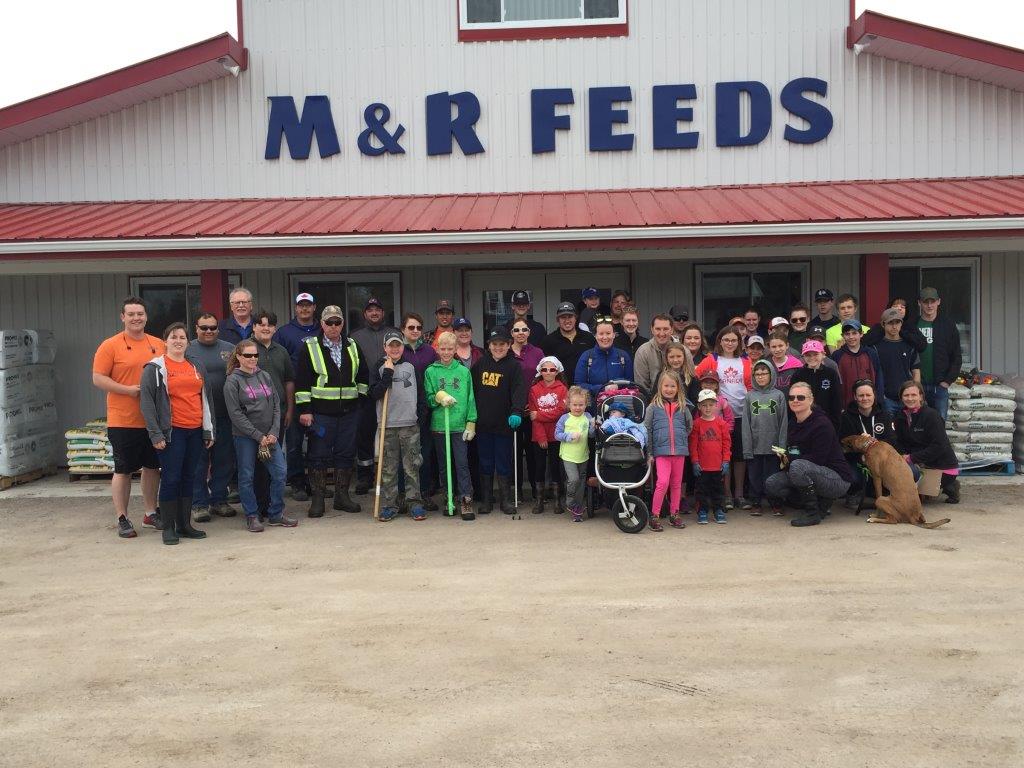 Horse Feeder Meetings

M&R Feeds hosted two feeder meeting evenings with Taylor Laroche, an Equine Nutrition Consultant for Purina. The meeting focused on feeding the senior horse and Diamond V (new ingredients in Purina products.) Meetings are free with raffle prizes to be won and refreshments available.
Horn Flies Information

Click here for an information sheet on understanding the economics of horn flies in beef cattle prodution.
Buy, Sell and Trade Day for Birds and Small Animals

M&R Feeds hosted the 2019 Buy, Sell and Trade Day for Birds and Small Animals on Saturday, May 4th.
2019 Chick Pricing
Soybean Trial and Corn Plot Results

Please see attached recent soybean and corn results in the local area:
M&R Part of Local Food Grains Initiative

M&R Feeds is proud to be part of a local initiative to help farmers grow food to help end world hunger.
Community & Industry News

Farm Video
M&R Feeds has often said "Farmers Feed The World." Now the Peterson Farm Bros. have released a video to tell the story. Click below to see the video.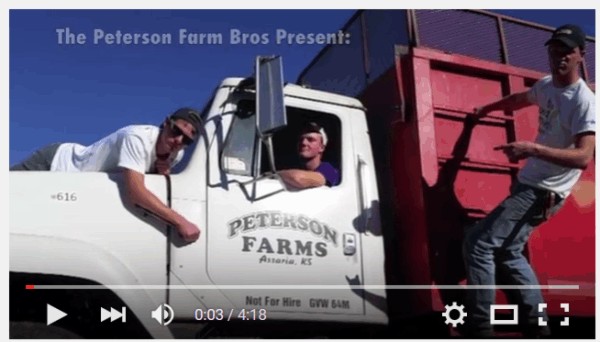 Supporting Farm & Food Care Foundation
M&R Feeds is proud to support the Farm & Food Care Foundation as a Silver partner. This partnership provides for the publishing of The Real Dirt on Farming magazine (see below). This magazine provides for important information on farms and food production in Canada. Copies of the magazine are available free of charge from M&R Feeds locations in Micksburg, Pembroke and Shawville. Online versions are also available.

The Real Dirt on Farming English Version (online)
The Real Dirt on Farming French Version (online)

Connect with us on Facebook:

Click on the logo to the left to see our Facebook page. Like us and you'll be notified of information on events and news happening at our stores.