M&R Feeds is your key stop for products and services for the farm and country home. We assist farmers with recommendations on livestock nutrition, handling and management as well as selecting crop inputs, marketing options and financing.


Thank you for helping us win $15,000 for our community with the Thank A Retailer campaign. See our video - Click here!
Latest News & Information

Horse Feeder Meetings

M&R Feeds is hosting two feeder meeting evenings with Taylor Laroche, an Equine Nutrition Consultant for Purina. The meeting focus is on feeding the senior horse and Diamond V (new ingredients in Purina products.) Meetings are free with raffle prizes to be won and refreshments available.
April 16, 2019: M&R Feeds in Shawville (388 Main Street, Shawville). 7:00pm.
April 17, 2019: Alice & Fraser Rec Centre (1 Henan Road, Pembroke) 7:00pm
Horn Flies Information

Click here for an information sheet on understanding the economics of horn flies in beef cattle prodution. You can also save $1 per bag until June 30, 2019 on horn fly control.
Saturday, May 4: Buy, Sell and Trade Day for Birds and Small Animals

Come out to the Pembroke location for the 2019 Buy, Sell and Trade Day for Birds and Small Animals. 8:30am-12:30pm on Saturday, May 4th. Everyone is welcome. For questions and details, call 613-732-2843.
2019 Chick Pricing
Soybean Trial and Corn Plot Results

Please see attached recent soybean and corn results in the local area:
M&R Part of Local Food Grains Initiative

M&R Feeds is proud to be part of a local initiative to help farmers grow food to help end world hunger.
Community & Industry News

Farm Video
M&R Feeds has often said "Farmers Feed The World." Now the Peterson Farm Bros. have released a video to tell the story. Click below to see the video.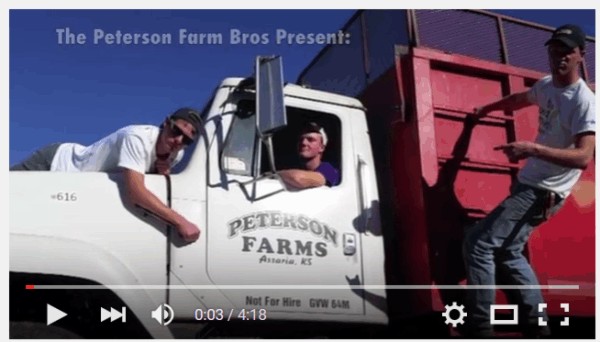 Supporting Farm & Food Care Foundation
M&R Feeds is proud to support the Farm & Food Care Foundation as a Silver partner. This partnership provides for the publishing of The Real Dirt on Farming magazine (see below). This magazine provides for important information on farms and food production in Canada. Copies of the magazine are available free of charge from M&R Feeds locations in Micksburg, Pembroke and Shawville. Online versions are also available.

The Real Dirt on Farming English Version (online)
The Real Dirt on Farming French Version (online)

Connect with us on Facebook:

Click on the logo to the left to see our Facebook page. Like us and you'll be notified of information on events and news happening at our stores.