M&R Feeds is your key stop for products and services for the farm and country home. We assist farmers with recommendations on livestock nutrition, handling and management as well as selecting crop inputs, marketing options and financing.

Latest News & Information

Buy, Sell and Trade Day (Fall Event): October 6th

Come out to M&R Feeds in Pembroke for our annual fall Buy, Sell and Trade Day for birds and small animals. 8:30am to 12:30pm. Everyone is welcome. 1185 Pembroke Street East. For information, call us at 613-732-2843.
M&R Part of Local Food Grains Initiative

M&R Feeds is proud to be part of a local initiative to help farmers grow food to help end world hunger.
New Information
AltosIGR : Now available in Canada. Click here for flyer.
2018 Chick Pricing
Brood Cow Nutrition Flyer
2017 Trials
The following are results from corn plot trials, soybean plot trials and canola plot trials. Thank to our local farmers for being part of our trials.
Corn Plot Results
Pioneer TRIALS Reporting Location Summary Report
Soybean Plot Results
Pioneer TRIALS Reporting Location Summary Report
Canola Plot Results
Pioneer TRIALS Reporting Location Summary Report
NEW! www.equipurina.ca
Purina is making it easier to answer horse nutrition and management questions with www.equipurina.ca. Upon visiting the website, you can choose from barrel racing, dressage, driving, eventing, hunter, humping, thoroughbred racing, standardbred racing, reining, western pleasure, trail riding or other links.
Congratulations Cornerview Charolais!
M&R Feeds is pleased to congratulate Brett and Brian Coughlin and their families on their team success at the 2017 Royal Winter Fair. Their awards included: Premier Breeder and Exhibitor, Breeders Herd, Grand Champion Charolais Bull, Reserve Champion Charolais Bull Calf, Get of Sire and Pair of Bulls, Reserve Champion Heifer Calf. Click here for photos.Mark your calendars for the 2018 Cornerview Bull Sale on March 24, 2018. For information, call 613-646-9714.
M&R Feeds and Dupont Pioneer Make AED Donation
M&R Feeds and Dupont Pioneer made a donation of an AED and training to the County of Renfrew. Click here for the press release.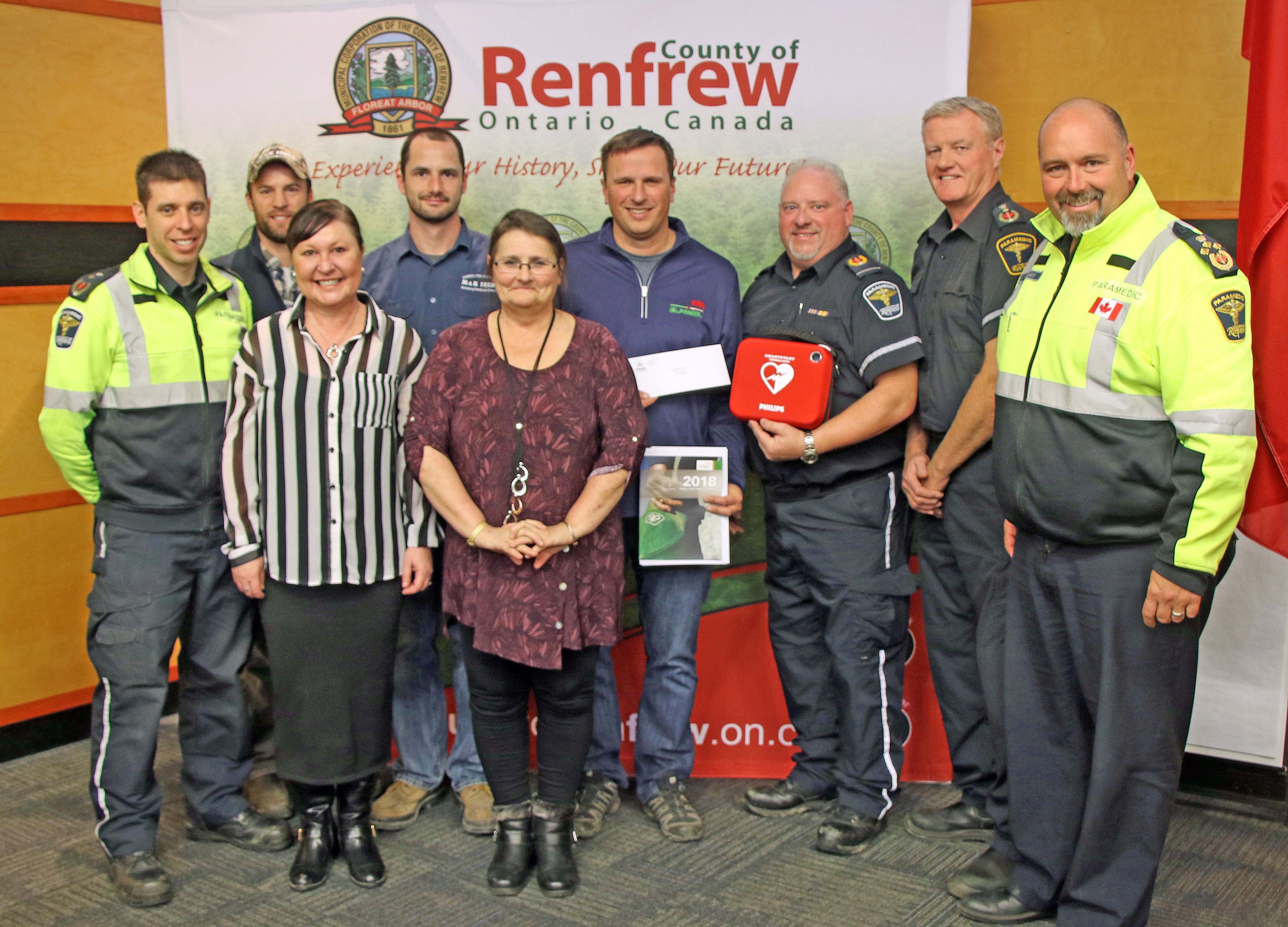 L-R: Mathieu Grenier (County of Renfrew), Brett Coughlin (M&R Feeds), Warden Jennifer Murphy, Liam Clifford (M&R Feeds), Health Committee Chair Janice Visneskie Moore, Lance Gibson (Dupont/Pioneer), Rob Blackwell (Public Access Defibrillator Coordinator, County of Renfrew), Brian Leahey (Deputy Chief of Logistics, County of Renfrew), Michael Nolan (Chief of the Paramedic Service, County of Renfrew).
2016-2017 Winter Wheat Plot
Click here for information on the 2016-17 Winter Wheat Plot.
Corn and Soybean Trials: Results From Local Farms
Listed below are results of corn trials at local farms:
Listed below are results of soybean trials at local farms:
Community & Industry News

M&R Feeds Donates to Cobden Public School
M&R Feeds and DuPont Pioneer has made a $1,500 contribution to Cobden Public School for the Ful Belly Full Mind initiative. DuPont Pioneer launched the initiative in 2016 and is making a financial commitment to support breakfast and student nutrition programs across Canada. M&R Feeds is the local sales representative and made the application for the funding.
Farm Video
M&R Feeds has often said "Farmers Feed The World." Now the Peterson Farm Bros. have released a video to tell the story. Click below to see the video.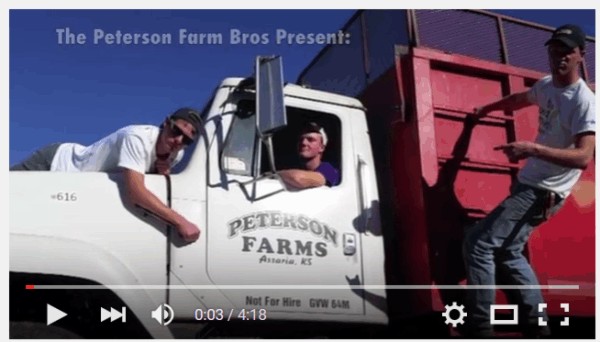 Cheque to Shawville Hospital Foundation
M&R Feeds Shawville was pleased to present a cheque to the Shawville Hospital Foundation as part of our commitment to quality healthcare in our region. Click here for photo.

More Information

Caitlyn Leblanc, Dairy Consultant
Catilyn Leblanc is the M&R Feeds Dairy Consultant. Give her a call if you want the latest information on dairy nutrition and management practices.
Brett Coughlin, Certified Crop Advisor
Brett Couglin is the M&R Feeds Certified Crop Advisor (Ontario and International designation). Give him a call for crop advisory information.

SmartLic Supplements: A feed product you should know
Extensive university research has gone into developing the innovative line of SmartLic supplements that target crucial areas like health, feed efficiency, and animal show and reproductive performance. Research consistently shows that feeding SmartLic supplements helps improve forage utilization, and that, combined with SmartLic's low consumption rate results in lower feed costs on a per-day, per-head basis.
Creep Feeding:
The economic driver for a cow/calf operation is weaning weight. Supplementing suckling calves with creep feed while they are young and growing rapidly promotes additional weight gain and can positively impact net return. Click here to read more about creep feeding.


Supporting Farm & Food Care Foundation
M&R Feeds is proud to support the Farm & Food Care Foundation as a Silver partner. This partnership provides for the publishing of The Real Dirt on Farming magazine (see below). This magazine provides for important information on farms and food production in Canada. Copies of the magazine are available free of charge from M&R Feeds locations in Micksburg, Pembroke and Shawville. Online versions are also available.

The Real Dirt on Farming English Version (online)
The Real Dirt on Farming French Version (online)

Connect with us on Facebook:

Click on the logo to the left to see our Facebook page. Like us and you'll be notified of information on events and news happening at our stores.